The temperatures are creeping upwards, and the days are getting longer and sunnier; you're ready to use your Jacuzzi® Hot Tub, but your home's outdoor space is overdue for a little TLC.
Here are a few ways to refresh your hot tub installation this spring so that your hot tub, deck, and outdoor areas are prepared for backyard leisure.
Add Seasonal Décor
One of the easiest ways to periodically refresh your home's outdoor areas is by adding new seasonal décor. A seasonal wreath and new doormat instantly give your deck or patio an updated look.
Invest in outdoor string lights that allow you to change the color and light pattern to add ambiance to your outdoor hot tub installation. If you have space for a couple of extra planters, use them to house seasonal plants or trees.
Invest in New Patio Furniture or Accessories for Your Existing Furniture
Take a few moments to envision how you want to use your home's deck or patio.
Do you want to entertain and dine al fresco when the weather is pleasant? Or, do you want to relax in your hot tub each morning to ease into your day? Perhaps you envision holding family game nights outside?
Once you know how you want to use your outdoor spaces, make sure that your furniture is suited to these goals. For example, if you want to relax in your Jacuzzi® Hot Tub with a beverage and book, add a side table so you have a space to stow your necessities.
If your current patio furniture is suitable for your needs, you can still refresh it with new accessories, like a fun outdoor rug or waterproof throw pillows.
Another option is to purchase new covers for your furniture's cushions; this allows you to change its style and appearance for significantly less than the cost of new furniture.
Schedule Pest Control
Nothing will ruin a pleasant evening outside faster than a swarm of mosquitos or an unexpected ant hill. Spring is the perfect time to begin a pest control plan that addresses your most problematic pests.
In addition to pest control, take steps to ensure that your patio isn't an inviting habit for pests. Remove any potential sources of standing water, like old containers or planters with poor drainage.
Add plants and herbs that are known to repel pests, like garlic, rosemary, and marigolds. Promptly clean up any food crumbs or spills so that pests don't see your porch as an easy opportunity for a meal.
Drain, Clean, and Refresh Your Outdoor Hot Tub Installation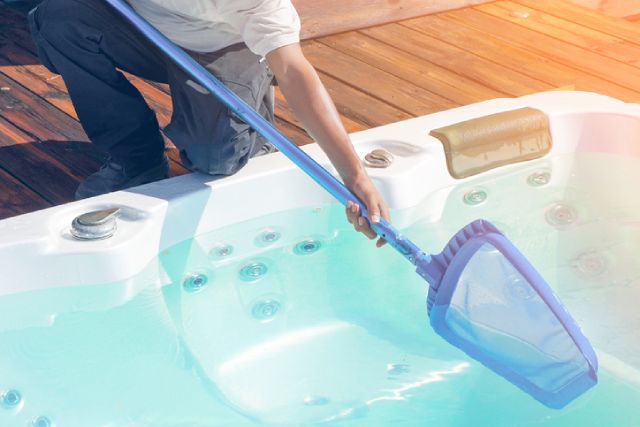 Spring is a fantastic time of year to enjoy your outdoor hot tub installation. Make sure that your hot tub is ready for you to use by spending a few hours draining and cleaning it.
A general recommendation for how often to change your hot tub's water is every three months. However, if you frequently use your hot tub, have a lot of people in it, or typically don't rinse off before taking a dip, you'll likely need to change it more frequently.
The exact procedures for draining your hot tub will depend on your specific type of hot tub. Once all the water is drained, clean the walls of your hot tub using warm water, vinegar, and a soft, lint-free cloth.
Avoid using harsh cleaning products, as they're not necessary and can be difficult to completely rinse away, potentially impacting your hot tub's water quality and causing it to foam.
See that you also clean your hot tub's filter. You can clean it by soaking it in a product designed to clean hot tub filters. Make sure to thoroughly rinse the cleaning product away by spraying it with a water hose.
You'll need to replace your filter every year or two, depending on how much you use your hot tub.
While you're tending to your outdoor hot tub's maintenance, confirm that you have plenty of chemicals and suitable products to keep your hot tub installation looking its best.
Some items to have on hand include:
Hot tub test strips or a testing kit
Bromine or chlorine
A skimmer net
An aquatic vacuum
Products to adjust the pH
Shock
Once you have the essentials, decide if there are any portions of your hot tub that you want to upgrade. Maybe you want to invest in a hot tub cover lift that makes it quicker and easier to remove your hot tub cover.
Or, perhaps you need extra storage for towels, drink holders, and waterproof games; a set of hot tub steps with a built-in storage area is a space-efficient alternative.
If you like to listen to music while you're in your hot tub, a couple of waterproof speakers will enhance your listening experience.
Give Your Lawn and Landscaping Some TLC
A gorgeous yard, complete with lovely flower beds, creates a terrific backdrop for your spring fun.
Remove any dead or decaying vegetation from your flower beds. Rake your yard to get rid of any remaining leaves or old grass lumps.
Aerate your yard using a core aerator, as this will permit more nutrients and water to reach your grass. Fertilize your whole lawn and then add grass seed as needed to patchy areas, or if you want to thicken your entire yard, you can seed your whole lawn.
If your soil is too acidic, a layer of lime can lower the pH to a healthier level for your grass. Make sure to water your lawn to help the seed grow. Avoid using any type of weed control product for at least four weeks after seeding your lawn.
To add more color to your flower beds, consider planting low-maintenance perennials, like Shasta Daiseys, Coneflowers, Hostas, or Black-Eyed Susans. A fresh layer of mulch will also refresh your garden and aid with your weed control and moisture retention.
Transform Your Home With an Outdoor Hot Tub Installation
If you're ready to turn your backyard into a relaxing oasis with a Jacuzzi® Hot Tub or want to shop for accessories for your hot tub, contact Red Rock Spas today for everything that you need for installing, maintaining, and enjoying your hot tub installation.