Are you trying to transform your backyard into a luxury escape you can get lost in?
The modern world is busier, and more stressful than ever before, and many people have begun seeking solace at home to bring balance back to their everyday lives.
Sound familiar?
Outdoor hot tubs can do just that, and so much more, and we're here to share it all with you, highlighting some of the best models on the market that offer a truly unique experience.
Top 10 Outdoor Hot Tubs To Fit Any Lifestyle
Before we get into anything else, let's dive right into the good stuff–exploring some of the top outdoor hot tubs on the market!
Coming in all styles with varying degrees of innovation and an array of features, there's a model to seamlessly fit any lifestyle.
Read on to discover which ones resonate best with you!
Ultra-Affordable Outdoor Hot Tubs
Hot tubs are an investment, there's no getting away from that, but with so many styles on the market, there is a wide range of prices to meet your budget needs.
If you're looking for hot tubs that offer a friendly price tag but maintain a high-quality design and premium experience, you'll want to consider the two models below.
Mood™️ Hot Tub
This Jacuzzi®️ hot tub has enough room for five and boasts a stunning bench-style design for a modern touch.
With its sculpted design, the Mood™️ model hugs your body, expertly lifting the weight off your joints, allowing them to rest and recover.
Complete with full-foam insulation to lock in heat and a ProLast™️ Cover, you'll discover this model made no compromises when it came to efficiency, keeping running costs to a minimum.
Best of all, with its 120V Plug n' Play design, installation becomes a breeze!
Brook™️ Spa
If you want to stick to a budget but don't want to compromise the size of your spa, the Brook™️ spa from Sundance®️ Spas is sure to meet your needs.
This seven-seater hot tub has a spacious interior with an open seating arrangement, free from any obstructions.
Even without a lounger, this model offers a full body massage, with one corner chair featuring twin jets to ease aching calf muscles.
Additionally, this model, along with any other in the Splash™️ Collection, can be paired with the Suite Package to amp up accessibility by adding matching steps with storage, a cover lifter, and a handrail!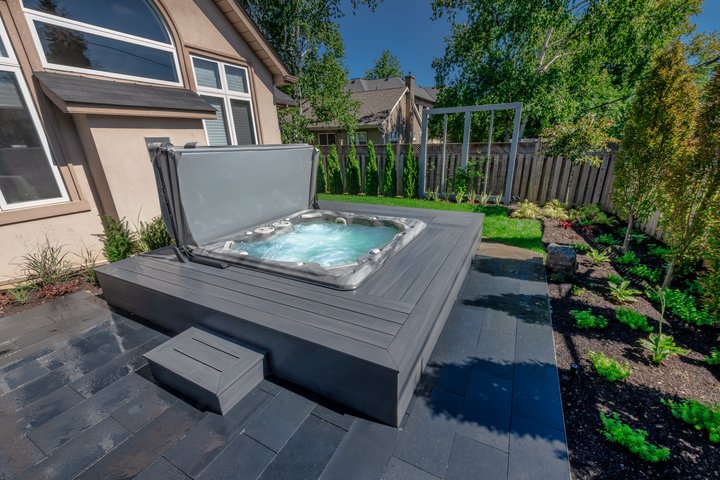 Models That Make Maintenance Effortless
Hot tub maintenance is an aspect of hot tub ownership that many people give great thought to.
While you can keep maintenance simple with the right routine, there are some spas on the market that have taken this concern seriously and made maintenance even easier with advanced systems.
720 Hot Tub
Have you heard of a "self-cleaning" hot tub?
This Hydropool spa does just that, with its EcoSmart Self-Cleaning Technology. This system can clean every drop of water in your spa in just 10 minutes, truly taking the work out of your spa care.
The 720 model does this by combining the perfect mix of processes, skimming debris off the surface while vacuuming any heavier debris that's sunk to the bottom.
When it comes to your time in the water, this spa boasts an open seating plan with twin full-body massage seats tucked along one side.
Every muscle from your shoulders to the tips of your toes is sure to feel utterly relaxed the moment you settle below the surface!
Want to see the Self Clean system in action? Check out this quick video.
J-325™️
For a more intimate atmosphere that places an emphasis on easy water care, the J-325™️ model would be a great fit.
This spa is perfect for sharing with three of your friends and includes advanced therapy systems to ease tension throughout your body.
When it comes to keeping your water free from bacteria, this model, and every other offered by the Jacuzzi®️ brand, is outfitted with the CLEARRAY®️ Active Oxygen™️ System.
This technology combines oxygen and UV-C light to kill bacteria in your water, resulting in fewer chemicals needed and less frequent treatments to keep your water clean and clear.
Luxury Outdoor Hot Tubs That Make an Impact
If your budget is a bit higher, and you're looking to splurge on an upgraded premium model, there are two models you'll want to add to your list!
Kingston™️ Model
This Sundance®️ Spas hot tub has elevated your soaking experience, combining a number of elements to achieve a one-of-a-kind design.
The Kingston™️ model has a massive interior with seven spacious seats to bring your closest loved ones together.
Its premium cabinetry with a rhythmic texture will make a statement in your space, beckoning guests into the water.
Along one side, you'll discover a secret cooler, ensuring you never have to leave the water to refresh your drink!
With multiple therapeutic seats, this spa makes it possible for a variety of body types to experience the same level of luxury, only adding to its allure!
J-LX®️ Hot Tub
For a truly modern touch of luxury, the J-LX®️ spa brings your backyard dreams to life!
This square hot tub boasts elegant, sharp lines with sleek metallic accent lighting, this spa creates a truly unique visual appeal that'll transform your backyard into a high-end retreat.
With its wide cascading waterfall and stunning LED lighting, the ambiance of your sessions will be brought to new heights.
Paired with the vast mix of PowerPro®️ Jets, you'll discover a hydrotherapy experience that expertly treats weary muscles, re-energizing you moments after stepping into the water.
This hot tub truly is the pinnacle of modern elegance and soothing relief.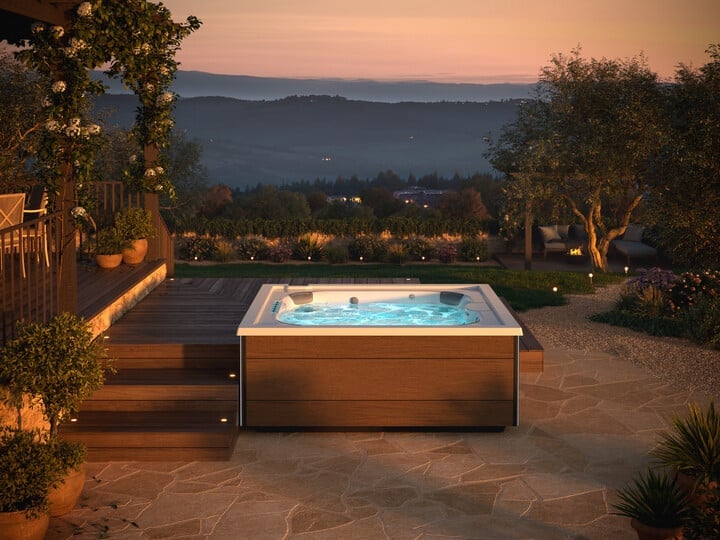 Hot Tubs With a Focus on Relaxation & Self-Care
Are your main goals to create a whole new self-care routine that treats more than your mind?
With the right elements, your spa can support both your mental and physical health, elevating your day-to-day living.
Cameo®️ Spa
The Cameo®️ model offers a unique mixture of therapeutic elements to truly invigorate every sense.
While the colorful LED lighting sets the mood, the air-only aromatherapy jets will fill the air with the soothing scents of your choice as they break the surface of the water.
Paired with the soothing sounds of trickling water from the wide-sheet waterfall, you'll be whisked away to a relaxing oasis the moment you close your eyes.
To complete your therapeutic experience, the perfect mixture of jets expertly targets your aches and pains with precision pressure.
After your first soak, your self-care routine will never be the same again!
J-LXL®️ Hot Tub
There's possibly no better way to spend your time in the water than leaning back in a lounge seat as clusters of jets massage every muscle from your neck down to your toes.
The J-LXL®️ model does just that, but the seat across the spa is where this model truly shines.
Boasting twin IR + Red Light Therapy lights to target your lower back, this model not only offers a premium hydrotherapy experience but also the powerful benefits of infrared light.
Simply settling into this seat puts your session into overdrive, soaking up the ample benefits this luxurious mixture of jets and lights provides!
Spacious Outdoor Hot Tubs For Families and Socialites
Hot tubs come in a wide range of sizes, with the smallest units seating 2-3 people, and the largest averaging seating for 10+ people!
If you're looking for a model that boasts enough room for your whole family or is suitable to complement your lavish gatherings, these models are for you!
970
This large hot tub is the complete package, offering enough seating for nine, a full lounger, and three additional full-body hydrotherapy seats.
Measuring in at 110" x 94", the 970 model may require a larger backyard, but if you have the space, it's sure to meet your every need.
To ensure your massage experience is tailored to you, this model includes fully adjustable jets, ensuring you can customize your experience as your needs change.
Outfitted with the self-cleaning technology, this brand is known for, you'll discover effortlessly clean water with every drop being cleaned in just 15 minutes.
Whether you're throwing an unforgettable hot tub party for your kid's birthday, or want to make this holiday season more relaxing than ever, the 970 model is sure to please.
J-495™️ Model
The Jacuzzi®️ brand also offers a nine-person hot tub, and with the unique high-back design, it'll quickly become a show-stopping centerpiece of your outdoor space.
Boasting two deep-set therapy seats to expertly treat your aching shoulders and back, the J-495™️ model is as good for socializing as it is for recovering.
This spa was designed with flexibility in mind, offering adjustable headrests to cradle your head and neck no matter your height, while also being designed with seats of varying heights.
From its spacious unobstructed center that's perfect for splashing kids, to the advanced therapeutic seats that cultivate a soothing haven of relief, this model does it all!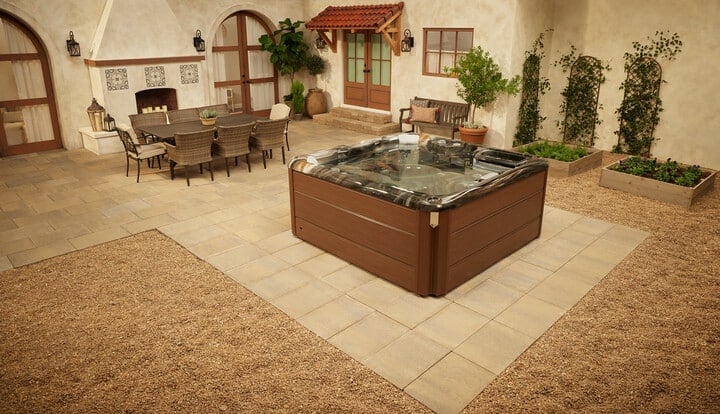 Why Outdoor Hot Tubs Exceed Traditional Hydrotherapy Benefits
The life-changing health and wellness benefits of hydrotherapy are well known, and while hot tubs alone can provide untethered access to them, an outdoor installation brings this even further.
The simple act of being outside boasts benefits of its own, and when combined with your hot tub, you can create a soothing escape that puts your wellness into overdrive.
Enhanced Stress Relief
Did you know that studies have shown that a 20-minute break outdoors, even without movement, can lower the cortisol levels in your body?
This reduction of stress even follows you through the remainder of your day, supporting your overall mental health day to day.
Hot tubs also help reduce stress, so when they're installed outdoors, you're putting this stress relief into hyperdrive!
Soak Up The Vitamin D
While spending extended time under the sun without protection isn't recommended, to get enough vitamin D from the sun, you should be spending at least 10 minutes a day outside.
However, this only applies if much of your skin is directly exposed to the sun and not covered by clothes.
Outdoor hot tubs create the perfect environment to do this, allowing your skin to soak up the sun, while the jets do the work to ease aching muscles!
Outdoor Entertainment For The Kids (365 days a year)
Possibly one of the best benefits of outdoor hot tubs is their ability to keep your kids entertained and away from the TV all year long.
Winter can be a difficult time to get your kids outside, but with a hot tub, that becomes infinitely easier!
Better yet, pool parties will be reserved for summer no longer. Even in the dead of winter, you can host the best birthday party of the year by throwing a hot tub party instead!
Outdoor Hot Tubs in Cedar City & Mesquite, Utah
Did one of the above models pique your interest?
At Red Rock Spas, we carry these and many more models that can elevate your outdoor space.
With spas from Jacuzzi®️ Hot Tubs, Sundance®️ Spas, and Hydropool, our showroom floor is stocked with industry-leading brands, ensuring every person who walks through our doors can find the perfect model for their lifestyle.
We'd love to help you transform your backyard into your dream oasis. Contact one of our four showrooms throughout Utah or our Nevada showroom to learn more, or visit your nearest location to explore our hot tubs in person!